Hey everyone! I'm back with another food adventure to share. This time, I'll be talking about one of my absolute favorite seafood restaurants just across the border in Malaysia – Restoran Todak (Orang Asli). I seriously can't get enough of this place! The food is incredible, the views are stunning, and the whole vibe is so chill and relaxing. If you also love seafood, you gotta check this spot out next time you're in Johor Bahru.
Restoran Todak (Orang Asli) Review
As a Singaporean, whenever there are travel opportunities, I will not hesitate to look for good food and meal. And just across the border, Singapore's neighbouring country Malaysia is a host to many good food.
A must to indulge in is the local's supreme seafood meal, which offers quality seafood at affordable prices!
​Lately, I would satisfy my seafood craving fix at one of this fantastic seafood restaurant known as "Restoran Todak (Orang Asli)"!
​As the name suggest, this restaurant is most probably originated from the indigenous people who relied heavily on seafood hunting, have now turned this into a lucrative businesses to cater to the palate of hungry locals & even Singaporeans! ​
Locating this restaurant alone requires a bit of skill due to the changing roads in Malaysia, and it is bound to be challenging as it is "hidden" deep inside at the end of a rocky trail, passing by numerous plantation & aquaculture that are owned by the locals.
​At the end of the trail, there would be around 3 different seafood restaurants to choose from, but "Restoran Todak (Orang Asli)" is the most popular of them all, heavily patronised by the locals & Singaporeans due to its extensive food selection & quality!
​Be sure to get here just before 7pm as finding a seat is so challenging despite its large spacious environment & the limited quantity of fresh seafood available such as crabs! The restaurant is just located by the shore, with an overview of the Johor Strait, making this place a great dining environment to just enjoy the breeze while indulging over a scrumptious seafood meal.
Big crowd during dinner hours!
After finding a place to settle down, it is wise to quickly just get over to the other end of the restaurant with numerous water tanks & approach the staff to start picking your desired seafood, along with your preferred cooking method!
As the seafood itself is on a first come first serve basis, it is advisable to also get someone to pick the seafood while the rest helps out in finding the seats!
​The most popular seafood that almost runs out so quickly is their crab, so be sure to look out for it first! The food menu is rather extensive with a wide variety of seafood available that range from exotic fishes, shell-fish, to prawn & crab. ​
My favourite fish-dish would have to be the "Red Grouper", which uses the Cantonese style steaming method consisting of soy sauce and a touch of spring onions & ginger!
The outcome of the entire dish is so scrumptious, and you can taste the soft delicate meat of sweet freshness that is blended together with the soy sauce's saltiness!


​The fish itself is so aesthetically pleasing for its fine blue spots that every bite is felt with admiration & satisfaction! Indeed, such a fine exquisite dish is only served in restaurants & it would certainly be expensive to savour if you are in Singapore!
The next awesome dish that I really had enjoy it so much as the fish-dish, would be "Gong Gong", which is a type of Shellfish delight! This dish is so simple and tasty that the shellfish itself was lightly steamed and served to us with a saucer of red chilli sauce! It require the use of toothpick or bare hands that i would preferred, to gently extract the meat from the shell to savour! I love my "Gong Gong" to be eaten with just pure garlic that is dipped along with the red chilli sauce & it just taste so awesomely great that is literally out of the world! The "Gong Gong" had tasted very chewy in texture and one could really feel the freshness of the seafood taste with every bite!
Apart from the "Gong Gong" dish, I also ordered another shellfish delight which is stir-fry clam in a dry curry & chilli-like paste that resembles Rendang.
You can really taste the richness from the chilli & its fragrant curry leaves that are used to whip up this dish!
​The meat of the clam retains the moisture while yet chewy, and goes well with a bowl of white rice!
Last but not least, the highlight of this trip was the chilli crab dish!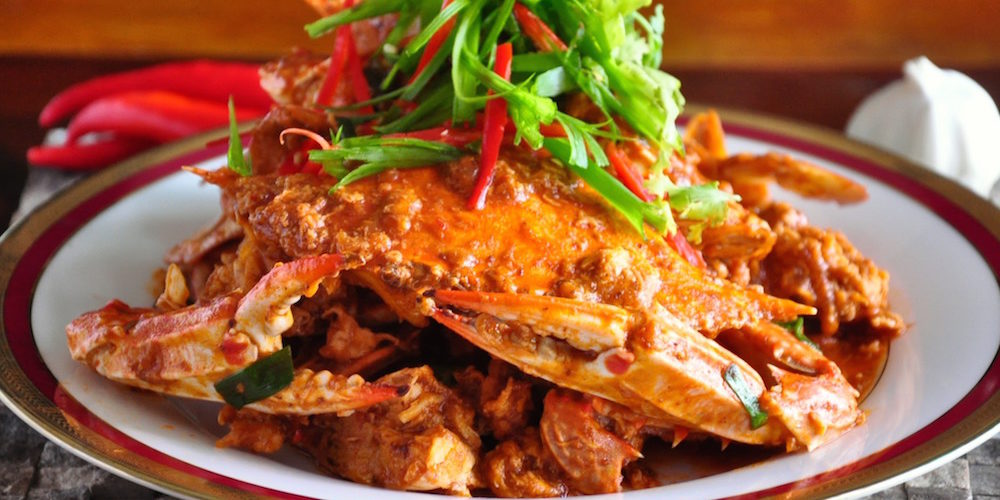 The Asian crab recipe, a culinary gem that I stumbled upon during my visit, added an extraordinary dimension to the dining experience. The crab is freshly caught from the deep sea, and I was so lucky to be able to grab my hands on the last few flower crab that was available on my day of visit, catching the admiration of those who have yet to order.
The crab came immersed with rich, tasty & sweet chilli sauce gravy all over it, producing a fragrant aroma that is so mouthwatering.
​The crab itself was still manageable to some extent of peeling off the shell to reveal that unbelievable fresh tasting meat, and was complimented well by the chilli sauce gravy that reminded me so much of our Uniquely Singapore's Chilli Crab dish!
​All in all, the seafood dishes tasted so awesomely fantabulous, and the price of the whole meal is rather affordable from the perspective of Singapore Currency as compared to Malaysia!
Restoran Todak (Orang Asli) 旗鱼海番村
Address: No. 1, Kg. Orang Asli, Telok Jawa, Masai, 81750  (Johor Bahru, Johor, Malaysia)
Opening Hours: Mon – Sun: 11:30 – 23:30
​​
Tel: +60 73863696
​Average Price: RM $283
1 Red Grouper dish
1 Crab dish
1 Gong Gong dish
1 Clam dish
​It has been a superb experience being able to indulge in such exquisite food that you don't usually get to savour, while chilling over the breeze & sea-view of the Johor Strait to end off a perfect scrumptious dinner!