As consumers, if we are paying the same price for a "hybrid build product" of quality & quantity, we would certainly come back for more, without doubt!
Today's food article is definitely one such extraordinary example that comprises of the above attributes!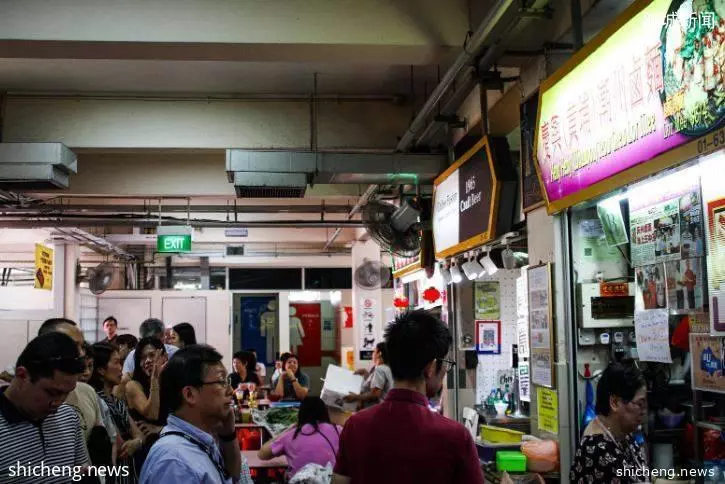 ​Located at Golden Mile Food Centre, this stall by the name of "Keng Heng (Whampoa) Teow Chew Lor Mee", is an extremely popular hit with the locals! ​
Be sure to come here early to prevent any disappointment as 
long "snake" queues
 can be seen forming up around the stall especially during noon hours!At this busy food centre where there are so many hawker stalls around (forming intensive competition), it has still managed to 
win the heart of many local customers
 who keep coming back for more!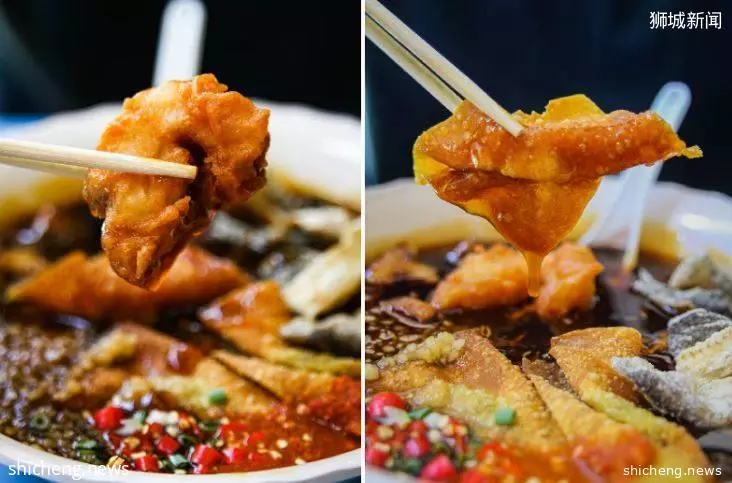 ​
​Irregardless of whether if you are in favour of this dish, I would highly recommend to give it a try for at least once at this food centre!
The chef behind this scrumptious dish!
Having won 
numerous food critics awards & featured in various newspaper articles
 for its outstanding dish, there is certainly no other better place to indulge over this dish when you are paying for the same price at outside!What I definitely love about having it from this stall, was the 
meticulous preparation of quality & quantity
 that has been put into this dish!
​
​As this stall only sells one main particular dish which is their Lor Mee, it would also be the reason why they are able to maintain and focus on the quality aspect of this dish better!
Assortment of condiments!
My bowl of Lor Mee came in a 
medium $4 portion
 of wholesome goodness which would totally awed you if you are having it for the very first time!You totally could not believe by how 
generous in quantity
 of the different ingredients that has been added into this dish.
​Just taking a look at the surface of this dish, one could already distinguish the looks of some fried ingredients, along with some special condiments laid on the top, indicating a sign of fulfilling and scrumptious experience that is yet to come!
The various fried ingredients consisted of wanton dumplings, fish meat, fish skin & ngoh hiang (five-spice pork rolls), as well as other non-fried ingredients such as fish cake, bean sprouts & some pork belly to complete the entire treat with egg noodles & thick starchy gravy!
​
Their fried fish skin was no doubt my absolute favourite fried ingredient on the list, due to its slight saltiness & sweet taste that resembles like a cracker!
​
​This is indeed one of the unique ingredient that you don't usually find it elsewhere but only here! I really enjoy the different mix of ingredients given, as all of it adds on to a holistic chewing experience!
The thick starchy gravy was also definitely the main key factor in determining if this entire dish was worthy enough to be considered outstanding!
The gravy was prepared in a sticky alike mixture that is sweet & fragrant.
The corn starch added was just the right amount to create the starchy gravy to be lesser resemblance of a jelly alike texture, making it delightful to savour.
​
The gravy is also rich in flavour which is prepared by using some pork belly to create a scrumptious end result! It was definitely worth noting that the combination of the egg noodles, as well as the starchy gravy, have both produced a compatible fusion such as the overall flavour & slipperiness alike texture which is so amazing!
If you have been wondering, the absolute goodness does not simply just ends here, especially when the last amazing wonders of this dish, lies with the few varieties of outstanding 
condiments
 that are being garnished over!The choice of condiments added are solely 
based on your personal preferences,
 but for my own take, I must not leave out on any of it!
The overall condiments have consisted of garlic, vinegar, sambal chilli, red chilli padi & spring onion that had totally unveil the flavours of this entire dish to a whole new level, which I totally recommend adding if you are adventurous enough! By having the combination of saltiness, spiciness & sweetness taste, it has undeniably bring out the overall kick to the entire dish which is truly remarkable & irresistible!
Spice up the entire dish!
In a nutshell, this is definitely a stall that is worth commending for its outstanding Lor Mee dish, due to the fact that the stall owner did not compromised on both quality & quantity aspects!
I was truly amazed by the generous portion of main & garnishing ingredients that have been added to this dish, creating a fulfilling and scrumptious experience to indulge over!
​It is definitely a highly recommended choice to give it a try especially for those who are in favour of this dish, when you are over here at Golden Mile Food Centre!
Keng Heng (Whampoa) Teow Chew Lor Mee (慶興黃埔潮州鹵麵)
Address: 505 Beach Road #01-63, 199583​ (Golden Mile Food Centre​)
Opening Hours: Mon – Sun: 07:30 – 15:00 (Closed: Wed)
​​
Tel: +65 98444853
​Average Price:
SGD $3.00 – Lor Mee (Small)
SGD $4.00 – Lor Mee (Medium)
SGD $5.00 – Lor Mee (Large)